A tribute to all the Jewish victims
During the Second World War, the Convent of Cinqfontaines was seized to intern Jews. It was an internment camp for the elderly and infirm Jews. It was also a place of transit before the deportation of the Jewish population to the Nazi concentration and extermination camps such as Theresienstadt and Auschwitz. In 1940, the Grand Duchy of Luxembourg counted 3,900 inhabitants of the Jewish faith, of which 677 were deported to these camps.
In 1969, a monument was created near the convent to pay tribute to all the Jewish victims of the Second World War. It was designed and developed by Lucien Wercollier. This memorial was built with granite stones from the quarry of the former concentration camp of Natzweiler/Struthof. On this date every year, camp survivors, victims' families, and civil society representatives gather to remember these past events and honor those who were lost.
A commemorative ceremony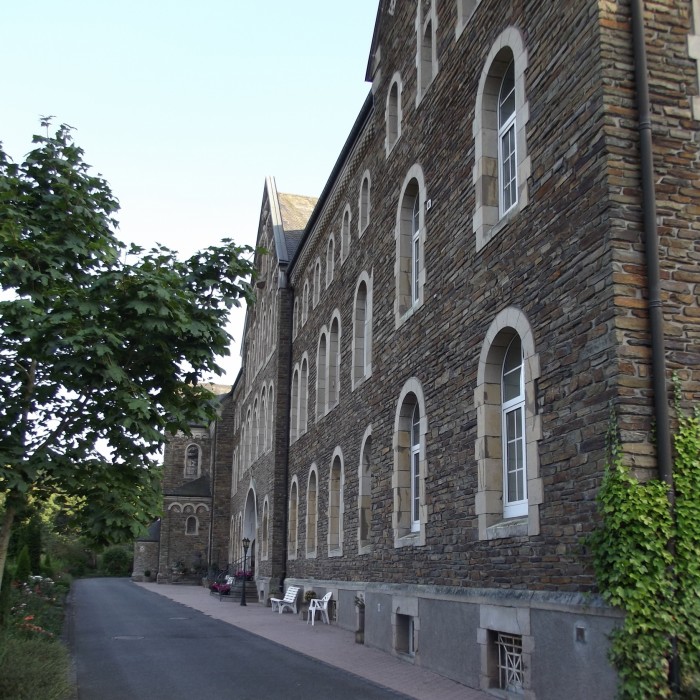 To honor the memory of the Jewish victims, every year at the beginning of July, the Auschwitz Committee organizes a commemorative ceremony at the foot of the Holocaust Monument near the former Cinqfontaines Abbey. This year, we invite you to join us on Sunday, July 3 at 10:30 am. We will have the honor of welcoming Mrs. Corinne Cahen, Minister of Family and Integration, and Mr. Alain Nacache, Chief Rabbi of Luxembourg.
The center for education to citizenship and the memory of the victims of the Holocaust
A center for education in citizenship and remembrance of the victims of the Holocaust has recently been opened. This initiative aims to pay tribute to the Jewish victims of Nazi crimes and to continue passing on the memories of these tragic events to new generations.
This center invites visitors to understand human rights better and oppose anti-Semitism and racism. Several different themes are addressed: human rights, the Holocaust and Luxembourg, fighting hate speech, etc. Furthermore, several activities are suggested in order to reach a large audience: seminars, conferences, training, and educational workshops!