A place for women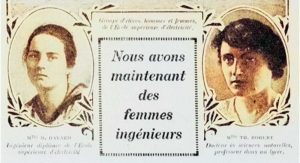 The war mobilized millions of men throughout Europe, particularly in France and Germany, and entire generations of men were lost. Whether they were working in fields or factories, women were obliged to ensure the smooth running of the economy in France as in the other countries involved in the conflict. Many were nurses on the front or wartime godmothers, women who kept in touch with the soldiers at the front.
Faced with these situations, the needs of national industry, and the eagerness of female candidates, engineering schools opened up at the end of the war. Moreover, they welcomed women in positions perceived at the time as typically masculine. Thus, in 1917, the École Centrale de Paris welcomed its first mixed class. This was followed by the National Institute of Agronomy (1919), the École supérieure d'électricité (1919) and the École de chimie de Paris (1919). In Belgium, the first woman engineer graduated from the University of Ghent in 1924.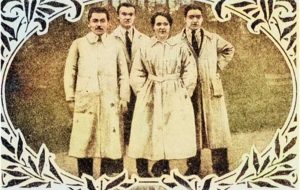 The rise of the world conflict thus opened the door to a new place for women in society. It coincided with the first feminist movements (the British suffragettes were already very active). The return to normalcy in the early 1920s was not an easy task, as women were forced to resume their traditional roles. However, a new breath of air was felt in the struggle for women's rights.