A crib left in Gaume by the Germans
Before the Great War, Christmas Eve was spent in front of the hearth after having shared dried fruits, and blood sausage from the pig slaughtered for the winter while waiting for midnight mass. Then, when the time came, it was customary for the oldest member of the family circle to place a log in the fire, which was to be consumed during the mass. And what remained of its consumption had protective virtues against fire, lightning, cattle diseases, and other evil spells! During the Great War, other rituals and traditions from Germany and Northern Europe were discovered, such as the Christmas tree with "absorbent cotton on it… apples, pears, little cakes, and blue or pink candles", and the Christmas wreath, which is lit by candlelight since the beginning of Advent. To these rites is added the pleasure of recomposing the crib. The cribs entered the homes from the 17th century in Italy. In the village of Gomery in Gaume, a crib abandoned by German soldiers in 1918 is preserved in the Gaume museum. The style of the so-called "German" crib may also be of Lorraine origin.
German time
Among the first measures taken by the Germans during the Occupation, the time change was introduced in November 1914. That is, one hour more than Belgian time in winter and two hours more in summer. Nestor Outer testifies to this in his notebooks written from July 30, 1914: 12 notebooks which formed a more substantial work realized with Léon Thiry, director of the Halanzy factories, published in 1919. Nestor Outer writes: "The church bell is silent, and the clock in the bell tower marks the German hour… From now on, there will be only one hour: that of the church! "Church time" (or "German time") is what the German administration, through the Burgomaster's voice, puts on all documents (notices, posters, placards, etc.). The liberated territories reverted to their old-time in 1918, but went back to German time in 1940.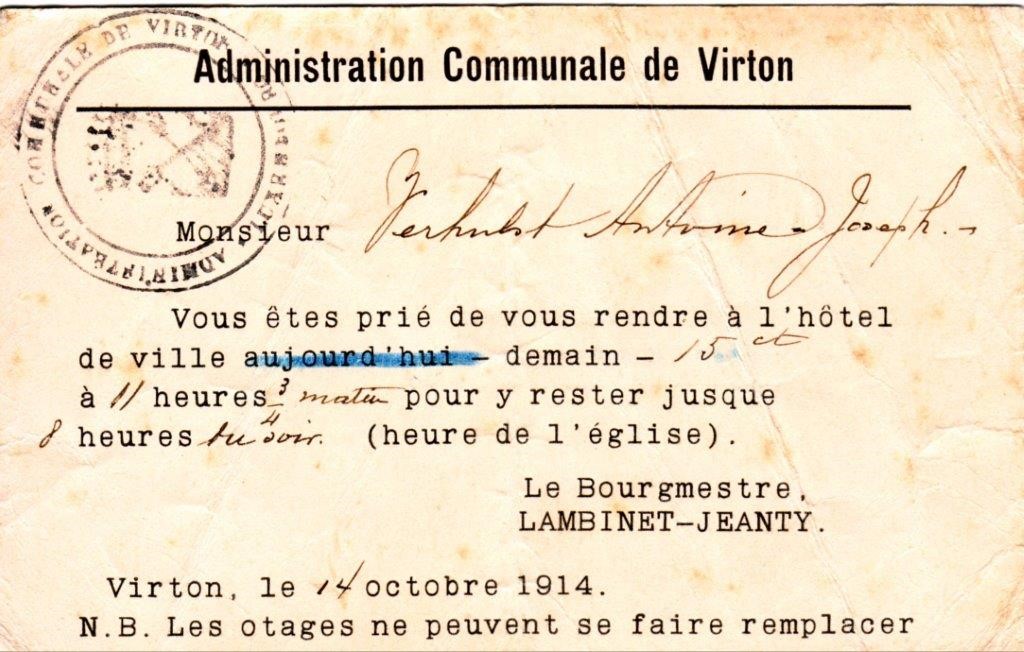 Diverted objects, souvenirs of the Great War
In the trenches or the prison camps, in between chores, hard work, or fighting, to pass the time or to keep morale up, people played cards or theater, wrote, read, drew, or even made souvenirs to give as gifts using objects they had on hand. Here, from an aluminum flask, a prisoner cut out a stoup decorated with the cross and the instruments of the Passion of the Christ (the lance, the ladder, the whip, and the nails). Under the neck: the double-headed eagle and the writing in Cyrillic attest to its Russian origin. A floral decoration, a date 1914-15, a dedication "to my dear Suzanne" make the object even more touching. The information is more precise on the back with an inscription "Souvenir de captivité à Cellelager." This camp, located north of Hanover, was reserved for French, English, Belgian, and Russian officers.