Between October 1914 and December 1915, violent fighting took place in this forest. The Bois Brûlé Trenches are a place known as the Croix des Redoutes or Cross of Redoutes, the De Roffignac and Bavarian trenches in the Apremont forest. This site remembers today the memory of German concrete trenches with a firing point, as well as a reconstructed French trench.
While walking there, visitors can discover a high wooden cross honoring the memory of the 95th infantry regiment, an orientation table, information panels, and a discovery trail.
Bavarois and Roffignac Trenches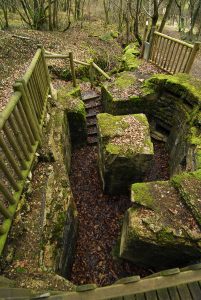 The Bavarois and Roffignac trenches are German and French front-line trenches that impress us by their proximity. They are less than thirty meters from each other. The curious can try to walk in the footsteps of these soldiers, look through the loopholes and the shooting benches. Also, a visit to the German hospital in the Gobessart Forest allows us to realize the precarious reality of health care at the time.
At the beginning of April 1915, the French tried to reconquer the Saint-Mihiel Salient on the Meuse River. On the morning of April 8, 1915, a violent counter-attack encircled the company of Adjutant Pericard, who then encouraged his soldiers, "Get up, dead men!"
The Bavarois and Roffignac trenches were the scenes of extremely violent fighting, where 1,565 French soldiers lost their lives, 7,657 were wounded, and 845 were reported missing. On the German side, the losses amounted to approximately 10,000 killed and injured. Of this terrible toll, it took the Germans three months of fighting to conquer 300 meters of ground.
In addition to the particularly difficult conditions, such as the cold and humidity in the trenches, the French army was much less prepared than its enemy. The French trenches were made of earth, while the German trenches were made of concrete with numerous structures.
Visitors can walk along with the firing points and lookout posts, the wooden ammunition lockers, and the entrances to the saps. The command post bears this inscription: "In Fidelity Feast 1914-1916." Today, two trees connected by barbed wire still contain the scar of these terrible episodes.