An immense historical heritage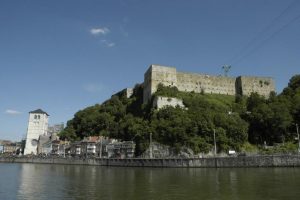 For generations, the site of Fort Huy has occupied an important strategic position in the military history of the region. The fort has also significantly contributed to the development of the city.
Built between 1818 and 1823 by the Dutch government, it was constructed on the site of the Castle of Huy. The fort is unique in Europe due to the many historical events it has borne witness to over the years. The only vestige of the original castle is the fort's water well, dating from the 16th century.
Situated at a strategic crossroads in Liege, Fort Huy has been at the center of many modern wars between foreign powers present in the region. In addition, it was used as a political prison in 1848, a discipline camp, and a regimental school. Sadly, the fort was transformed into an internment camp by the Germans during the Second World War.
As soon as you pass through the impressive gates of the fort, the icy atmosphere of the first corridor is unforgettable. Dungeons, interrogation rooms, detention chambers, and rudimentary laundries bear witness to the living conditions of the prisoners and the population under the Nazi occupation.
An immense museum dedicated to the Resistance and the concentration camps allows visitors to discover the lives of the men and women imprisoned there thanks to their poignant testimonies.
Throughout the year, numerous exhibitions, animations, and shows are organized on the plateau of the fort. In addition, treasure hunts, medieval animations, and concerts will delight the curiosity of young and old.
Of course, don't miss the exceptional view that extends over the slopes of the plateau. The fort offers a unique panorama on the curving Meuse River, the city of Huy, and its surroundings.