The first fallen soldier in the Great War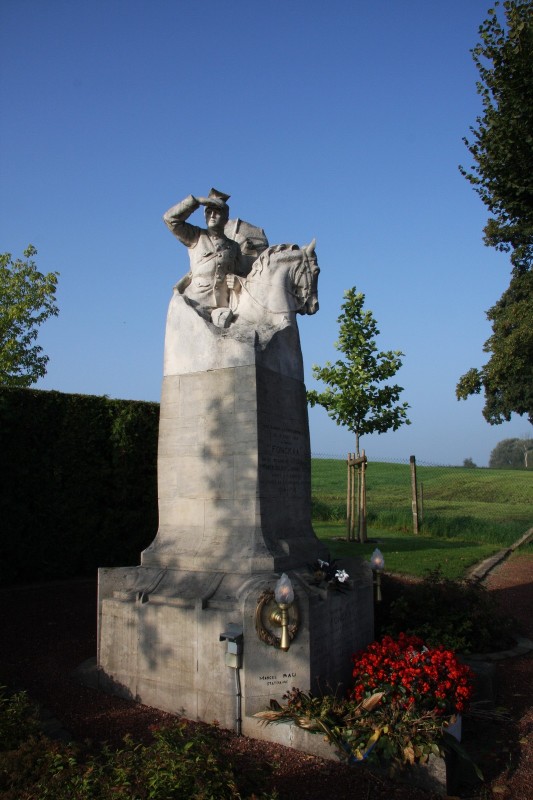 Cavalry Scout Fonck was a Belgian soldier who was part of the 2nd Lancer Regiment. He was a proud scout and lived according to the motto of the Belgian Lancers: "Dead first as in front." His role was to watch for the arrival of the Germans at the beginning of the First World War. Unfortunately, he was shot at La Croix Polinard, becoming the first military victim of the German invasion of Belgium.
Antoine Fonck was buried in the cemetery of Thimister in August 1914. Plans to erect a monument in his honor entitled "Monument to Cavalry Scout Fonck," placed at the exact spot where he died, was launched in 1915 while the Germans still occupied Belgium.
After the Armistice, the sculptor and medallist Marcel Rau was entrusted with the creation of the monument. It was inaugurated on August 23, 1923. Installed on the side of the road, it represents a rider staring at the horizon on his horse. It is sculpted in stone and mounted on a rectangular base.
On the front of the monument, you can read: "Here fell gloriously on August 4, 1914, Cavalry Scout Fonck A.A. of the 2nd regiment of Lancers first soldier of the Belgian Army died at the enemy during the Great War 1914-1918.
Every year, on the first Sunday of August, the population of Thimister pays tribute to this famous rider.
Come and pay tribute to this famous character of the First World War, a hero in the eyes of all!