A place of memory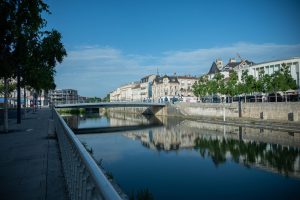 Verdun is a small town of 18,000 inhabitants famous for its First World War battlefield. Today, many museums, sites, and memorials bear witness to the pain of the past, but also the heroism of those who sacrificed themselves for freedom.
The Douaumont Ossuary, for example, houses the remains of more than 100,000 soldiers. To the northwest of the city, the American cemetery of Meuse-Argonne pays tribute to the American soldiers who significantly contributed to France's victory.
After the war, the town was devastated: a quarter was completely destroyed, half was severely damaged, and the last quarter was looted. But during the interwar period, the city was rebuilt. In 1929, Verdun got a second burst of life. New streets were widened, the river banks were cleared, and monuments, such as the cathedral were restored. Numerous memorials were erected, and Verdun became a place of pilgrimage for the soldiers of the Great War and their families.