Symbol of the Battle of Verdun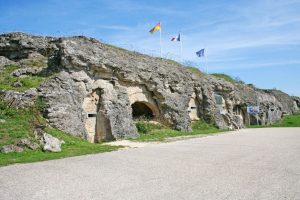 Built between 1884 and 1886, Fort Douaumont was a strategic location of the Battle of Verdun in 1916. Moreover, it is to this battle that it owes its fame. Overlooking the valley southwest of Douaumont at an altitude of almost 400 meters, the fort has been classified as a historical monument since 1970.
Its construction was almost immediately obsolete because of its masonry construction. Indeed, at that time, new shells had the capacity to destroy the masonry structures already. That is why Fort Douaumont was covered with a thick layer of concrete in the most exposed and sensitive areas. Its efficiency and the resistance of its armament made it one of the most sturdy buildings in the entrenched camp of Verdun.
From the beginning of the First World War, the village of Douaumont and its surroundings were put in a state of defense: trenches were dug, barricades were erected, and barbed wire was hung. At first, it managed to defend itself. However, from 1915, the village could no longer hold out. The stabilization of the front line changed the type of combat used.
France's response
On February 21, 1916, the Germans attacked Verdun. Fort Douaumont was a prime target: it received about 800 shells in two days. In a few days, the front line came dangerously close to the fort. Four days after the beginning of the battle, it was in the hands of the German army. However, the French army fought to recapture the fort for eight months by showering it with shells. Finally, in October 1916, after six days of preparation and a particularly dense artillery deployment, an umpteenth attack succeeded in retaking the fort.
In the Fort Douaumont museum, numerous films, photos, archival documents, and testimonies tell the story of the fort and the heroic soldiers who fought there. It's a poignant discovery that complements the visit to the fort.