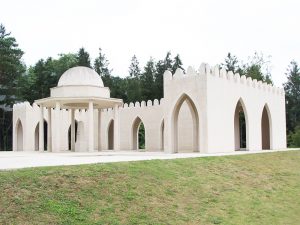 The Moorish-style monument was inaugurated in 2006. It faces the Muslim square of 592 graves in the National Necropolis of Fleury, in front of Douaumont, which contains 16,142 graves.
Nearly 600,000 riflemen, goumiers and spahis, from the Maghreb, sub-Saharan Africa and Madagascar, were enrolled in the French uniform during the Great War; among them 70,000 Muslims, 28,000 of whom would not recover.
On the other side of the Necropolis, a monument, built by Stern in 1938, commemorates the French Israelites, Allies and foreign volunteers who died for France during the First World War.