A path between past and present
The trail is composed of two circuits adapted to different visitor profiles. The complete circuit is 2.8 km long, for a stroll of about 2 hours. A shorter course of a little more than a kilometer is also possible. During the visit, and whatever the circuit, you can discover still visible vestiges of war: foxholes or craters.
The tour is enriched with human-sized silhouettes taken from photographs dating from the time of the battle. Most of the pictures were taken at the Schumannseck or in the surrounding area.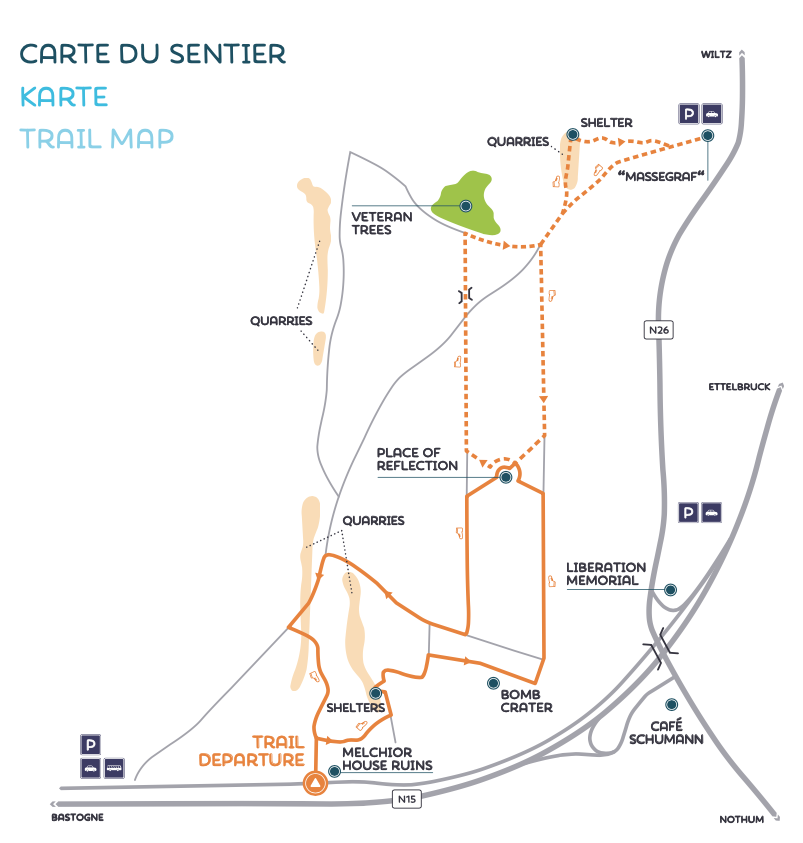 Along with the themes of the trail, QR codes provide access to more than a hundred additional audiovisual testimonies (sound extracts, videos, and archive photos). These QR codes can be accessed directly on site with your smartphone.
The "Nächst Statioun" application also invites you to go on an adventure along the trail with Klaus and Mish, the heroes of the animated series by Zeilt Production, broadcast on RTL. These unique elements create an immersive setting for a visit that is a true immersion in history!
The breakthrough of the crossroads "Schumanns Eck"
On December 26, 1944, the 3rd American army led by General S. Patton Jr. organized a counter-attack on Bastogne while the Germans encircled it. The objective of the 26th Yankee Infantry Division was to make a breakthrough from the Schumanns Eck crossroads to Bras. Thus, the strategy was to surround the German troops to stop their advance. The fighting raged, with heavy losses on both sides of the battlefield.
However, the 26th division had to face the 9th "Volksgrenadier Division," which slowed the American advance. Thousands of soldiers lost their lives in these confrontations. The front line froze for 15 days, like the war of attrition of the First World War.
On January 9, 1945, the "Yankees" and the 90th American division created a breach on the German front to take Berlé. On January 21, 1945, the town of Wiltz was finally liberated. The American 26th Division and the 6th Cavalry Group then took control of the area.
The Path of Remembrance leads to the monument called "Massegraf" (mass grave), erected on the 50th anniversary of the liberation of Luxembourg. It is located where German and American soldiers were temporarily buried during the war.