At the end of the Battle of the Bulge in 1945, a temporary cemetery was set up in Foy-Recogne for 2,700 American soldiers while awaiting their gradual transfer to the larger cemetery of Henri-Chapelle. Today, only one monument still marks its existence. The graveyard for the 6,800 fallen German soldiers is still in place, a few steps away.
A place that inspired Pierre Delcour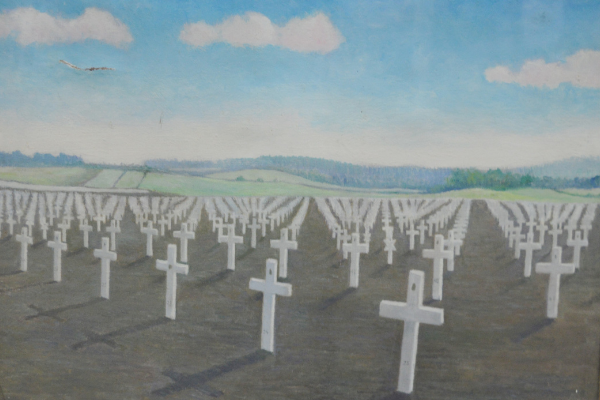 In 1945, the artist Pierre Delcour painted a picture of this cemetery. The war had barely ended, and the ground was not yet covered with vegetation. White numbered crosses lined up endlessly, which highlighted the staggering number of victims. The second part of the painting shows the pastoral landscape where the cemetery is located.
Forests and meadows appear under an immense blue sky dotted with a few clouds. The whole scene evokes peace, silence, and perhaps the resurgence of life over death.