A symbolic and strategic site
The underground citadel of Verdun was built at the end of the 19th century. From 1886 to 1893, 4 km of galleries were dug under the existing Citadel on Mont Saint Vanne to accommodate men and equipment in case of conflict. It was General Serré de Rivières, Director of the Engineering Department at the Ministry of War, who was responsible for the layout of the underground citadel as we know it today
The underground citadel of Verdun was built between 1567 and 1634. It was then continuously improved over the years. Finally, during the First World War, it became an actual underground city. The citadel even had offices, ammunition stores, a makeshift hospital, dormitories, a bakery, and even a telephone exchange with electricity. Moreover, thanks to its galleries dug 16 meters under the rock, it resisted shells and protected the men inside. Thus, it played a strategic role in the survival of the troops fighting on the surface during the Battle of Verdun.
Today, it is a rock in the history of the First World War, which was thankfully never hit by bombing. Therefore, it played an essential role during the Battle of Verdun and during the four years of the Great War.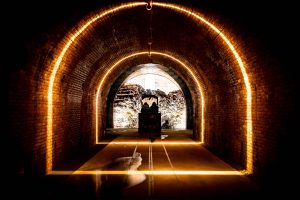 Today, the citadel's heart is home to an exceptional museum, which offers a unique educational and historical experience. With an augmented reality helmet on your head, you can enter the shoes of Jean Rivière, a soldier in the trenches. During a journey by wagon or on foot in the galleries, 16 meters under the rock, we meet three other front line soldiers, and we learn more about the underground life of the citadel in wartime.
This fascinating visit inspires many emotions thanks to the total immersion it offers to visitors. In virtual reality, you can watch the ceremony of the selection of the unknown soldier in the gallery where it actually took place at the time!
Before your visit, there is some essential practical information to note! First, we advise you to bring warm clothes, as it is rarely more than 8 degrees in the galleries. Also, the virtual reality experience in the galleries is forbidden to children under eight years old.