Five years of war have torn Europe apart. Civilians and soldiers are exhausted. Since the Normandy landings in June 1944, the successive liberation of towns and villages in France, Belgium and Luxembourg have brought joy and hope for peace. Nazi Germany is pushed to the limit. By Christmas, everyone is convinced, they shall be rid of this atrocious war.
This is underestimating the fury of Hitler, who still wants to believe in his victory and in turning the tide of the war. No German officer in the field believes in the success of his latest plan. On 16 December 1944, at 5.30 am, he launches the offensive on a 125 km front, from Montjoie to Echternach, in Belgium and the Grand Duchy of Luxembourg, through towns, villages and forests of the Ardennes.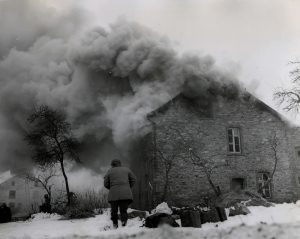 His last plan, called 'Guard on the Rhine' (Wacht am Rhein), which would become 'Autumn Fog' (Herbstnebel), had as its objective the capture of Antwerp, a vital place for the Allies. It was their supply port. If Hitler succeeded, the Allies would be cut in two. Thus began, to everyone's surprise, the Battle of the Bulge.
The Allied counter-offensive is launched on 3 January 1945. At the end of the month, after bitter fighting, and sometimes massacres, Hitler's final gamble is a failure. The human toll is catastrophic, for civilians as well as for the soldiers of both sides. The Allies would continue their advance into Germany. Once the fighting had ended, many organisations had to help a population that had been destroyed in every way. The reconstruction of the Ardennes would last for years, and some ruins would still be visible in the 1960s.