A city that suffered
The Battle of the Bulge Museum in Wiltz commemorates a touching anecdote from December 1944. At that time, the 28th Infantry Division of American GIs was sent to Wiltz to rest after a two-week battle that resulted in the loss of 6,000 soldiers. The city had just been liberated after four years of occupation, during which all elements of Luxembourgish culture, including language, were repressed and banned. By the time the Americans arrived, Wiltz was a relieved but war-weary town lacking resources. Moreover, it was almost Christmas time. That is why the American soldiers came up with the idea to organize a small party for the village population, especially for the children, who had not known a joyful holiday season.
The soldiers in disguise
Corporal Richard Brookins was, despite his nervousness, designated to dress up as Saint Nicholas. With the help of the nuns, Father Wolffe, and the parish priest, the GIs retrieved a makeshift costume consisting of a bishop's hat, robes, and a broken scepter, all assembled with some duct tape. They fashioned a mop to use for St. Nicholas' beard. Father Wolffe blessed them, saying, "May God and the spirit of St. Nicholas be with you." The American St. Nicholas then paraded through the city's streets in an army jeep, accompanied by two young girls dressed in angel costumes. It was a moment of enchantment for the children when he stopped at a public school to greet each of them in German, the town's language.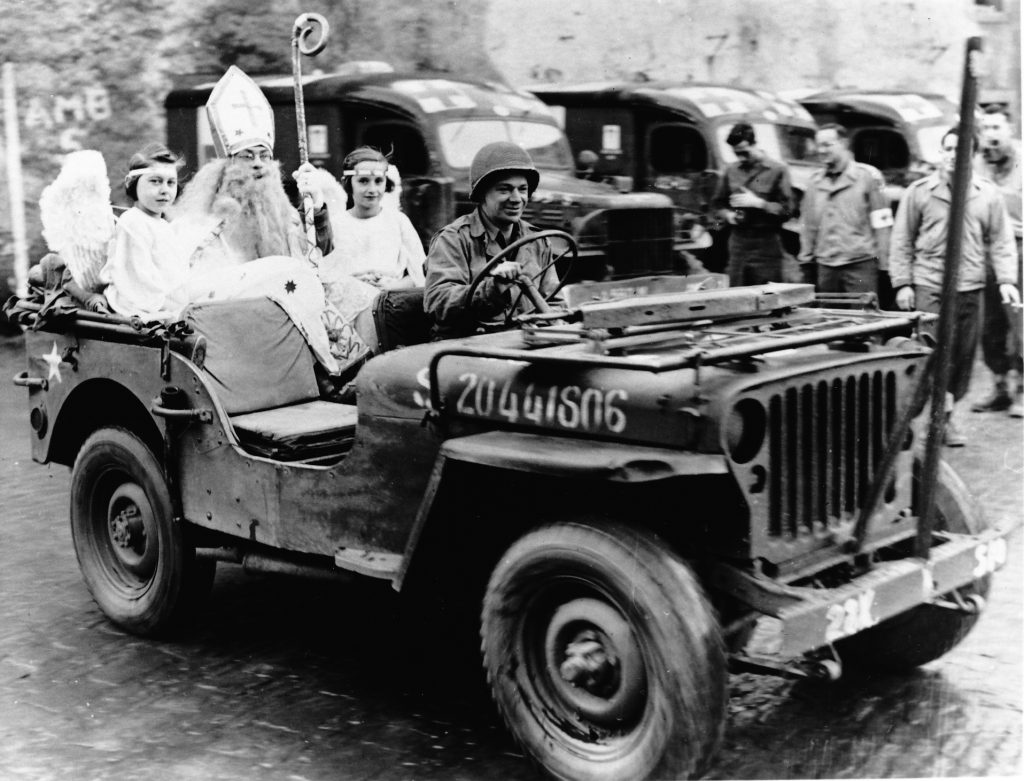 Establishing a new tradition
Afterward, a party was held at Wiltz Castle. The army cooks had prepared sweets from the rations and donations by the American soldiers. Thus, this year, the children were able to receive gifts. The festivities continued with songs played on a guitar. Each child was able to tell the good St. Nicholas what gifts they wanted for Christmas. Unfortunately, Corporal Brookins could only understand a little German and had a bad headache at the end of the night! But he kept the heavy hat on his head all night to not disappoint the children.
A few weeks later, on December 16, the Battle of the Bulge reached Wiltz. It destroyed 80% of the small village and killed many families. However, every year since then, the people of Wiltz keep the tradition of the American St. Nick to honor the soldiers who comforted the people of Wiltz in 1944.
See also, The American St. Nick by Peter Lion.